The story behind our 2-Tier Salvage Shoe Rack Tables
Posted by Woodward Throwbacks on

Made from vintage factory shoe racks and salvaged 2x4s from the WT Philly House, meet The 2-Tier Salvage Shoe Rack Table.
We love discovering the origin stories of our materials, especially when they include so many things we're into like this one does: footwear, hand craftsmanship, and the east coast. 
When Kyle came across 100+ wooden shoe racks stacked in a barn in Bay City, MI, he learned a couple of things that made us curious enough to look into this one further: 
1. The shoe racks would have been made for use in a shoe factory that had likely closed.
2. They would have been attached to custom-made carts to move shoes through the manufacturing process.
So, we took a look back at the evolution of shoe manufacturing to determine when wooden racks would have been used. 
U.S. shoe-making first began in the Northeast in the 1620s with early European settlers. True artisans, each shoe was custom measured and crafted by hand. The materials used included hand-stitched leather and wood.
"The Old Cobbler" Courtesy of Weymouth Historical Society
Home to many early shoemakers, Weymouth, MA, played a significant role in the U.S. shoe industry. What started in sheds, known as "ten footers," grew into small to medium-sized factories and eventually large-scale factories. One of the first factories was Tirrell Shoe Factory, where similar wooden shoe racks would have been used.
Tirrell Shoe Factory in Weymouth, MA. Photo Credit: The Weymouth Historical Society, Boston University
Production began to ramp up with the invention of the sewing machine in 1846. By the late 1850s, the industry shifted towards modern factories, mainly throughout the US and areas of England. Some were still using wooden shoe racks to move shoes through production at this time, as shown in Sweden and Chicago here: 
Similar shoe rack carts in a Swedish shoe factory in the 1930s. Photo Credit:  Efraim Stensburg, Wikimedia Commons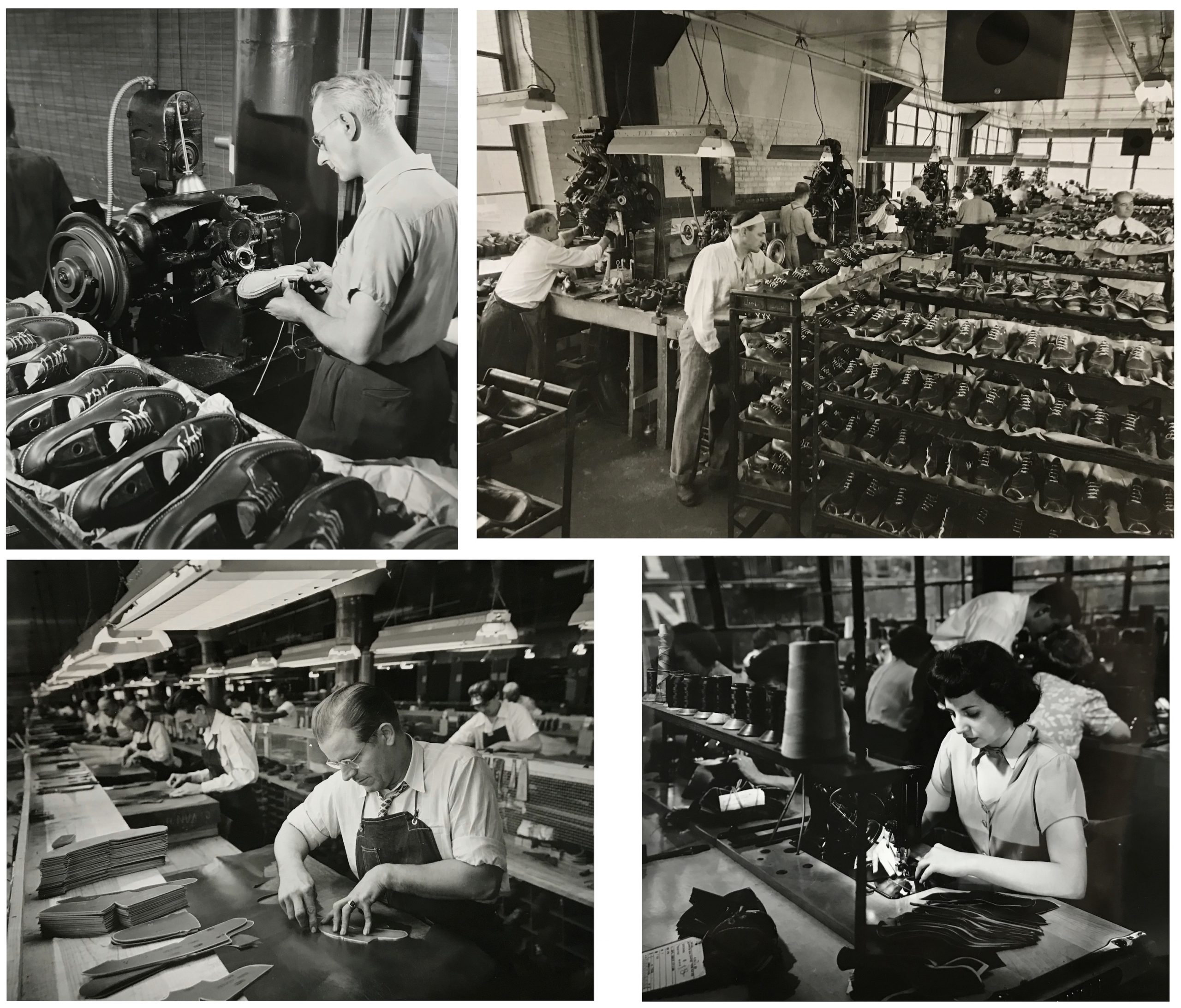 Famous former Chicago Shoe Manufacturer, Florsheim Shoe Company, with similar wooden racks in the late 1940s. Photo Credit: Made in Chicago Museum

With a fast rise in overseas mass manufacturing capabilities and demand for more comfortable footwear, rubber soles were introduced by brands still popular today like Keds, Dr. Scholl's, and Converse, and the process of gluing footwear took off which further expedited the process. 
Along the way, conveyor belts, robots, and metal racks replaced wooden racks to move a larger volume of shoes through assembly plants more efficiently. From what we've found, most factories would have stopped using wooden racks by the 1960s, leading up to the steep drop off of shoemaking in the US.  
In the past century, shoe manufacturing shifted from Europe and the U.S. to Japan, Brazil, South Korea, Taiwan, and China. The majority of manufacturing moved to mainland China by the 1990s. Big brands like Nike and Adidas have started to rethink manufacturing in China. Still, based on the latest numbers from Statista, China remains the leading producer of footwear, with ~ 11 billion pairs (over half) as of 2020. Coming from a much smaller custom furniture-making operation, we also found it pretty crazy to learn that a pair of shoes requires 68 to 390 different steps and can pass the hands of 40-100 people, varying based on the design. 
According to Business Insider, 160,600 people in the US were employed in footwear manufacturing in 1980, falling to 32,500 in 2017 (an 80% drop). It was becoming too impossible to keep up with operations and wages overseas. 2017 is also around the time Kyle came across the dismantled and offloaded wooden shoe racks.
Man making shoes at a factory on a production line. Photo Credit: Andresr, Getty Images Signature, 2016
The conveyor belt of a shoe factory used in the mass production of footwear around 2017. Photo Credit: Andrey Radchenko. 
From factory to home: New furniture pieces designed to display and store your kicks -- or anything else you want, really. 
The mass production of shoes preceded the luxury of walk-in closets by a long shot. One solution to avoid shoes piling up at the door or on the floor of a tiny wardrobe or closet became a wooden shoe rack. Inventor William A Cicero filed the consumer shoe rack patent in 1937.

William A Cicero's shoe rack design.
Small free-standing 1940s wardrobe closet. This man definitely needed one of William A Cicero's shoe racks. Photo Credit: Vintage Dancer
Today, especially in the Detroit area, a small closet is either a begrudgingly accepted trade-off of a historic home or at the top of the reno project list for any home built in the 1970s or earlier. Even though most of the Throwbacks team sticks to a pretty limited wardrobe around the shop, we still find ourselves needing more room than most closets in homes pre-1980s offer. 
Standard wall closet packed to the ceiling -- no one is going to find a pair of shoes in there. Photo Credit: SteveColeImages
It wasn't until the 1980s that walk-in closets became an interior design staple -- typically up-fitted with cookie-cutter built-ins that replace the need for a decorative shoe rack. Usually reserved for the master bedroom, secondary bedroom residents are often stuck with a standard wall closets and still need extra storage solutions.
A "modest" modern walk-in closet with standard built-in shelving in 2015. Photo Credit: Shantrice16, Wikimedia Commons
Okay, so we may be a bit biased, but we think a well-designed multi-functional accent table that provides a clutter-free entryway, creates a stately dressing area, and meets a range of other storage needs has a place in any home! It's also pretty cool we could extend the life of vintage factory shoe racks in the process. 
We kept the factory shoe racks very close to their original state with some light sanding and fresh stain. We preserved circular cut-outs around the edges and matched the color and cut-out details on newly constructed bases. Bonus: We made the bases from salvaged 2x4s from the WT Philly House. 
This furniture piece works great as a shoe rack, naturally, as well as a coffee table or low accent table. The dimensions are 39L x 16 7/8W x 18H.
Shop The 2-Tier Salvage Shoe Rack Table in our showroom or online store while they last!
Detail photos of The 2-Tier Salvage Shoe Rack Table.
The 2-Tier Salvage Shoe Rack Table styled as a coffee table. 
The 2-Tier Salvage Shoe Rack Table styled as a shoe rack. 
← Older Post Newer Post →